-----------------------------------------------------
'A2' LITTER
Currently accepting deposits
Planned Breeding in March, 2017
SIRE:
TO BE DETERMINED
DAM:
BONE POINT'S MARLEY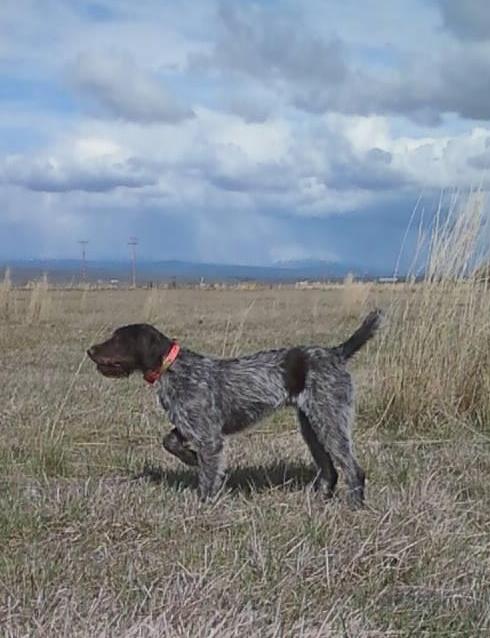 NAVHDA NA: 112/I
NAVHDA UT: 162/III @ 3 yrs
HEIGHT: 24.5"
WEIGHT: 58 lbs
COAT: liver roan, medium dense/medium harsh
BITE & EYES: normal
HIPS: PENNhip R.26 L.26, 90th percentile
THYROID: OFA Normal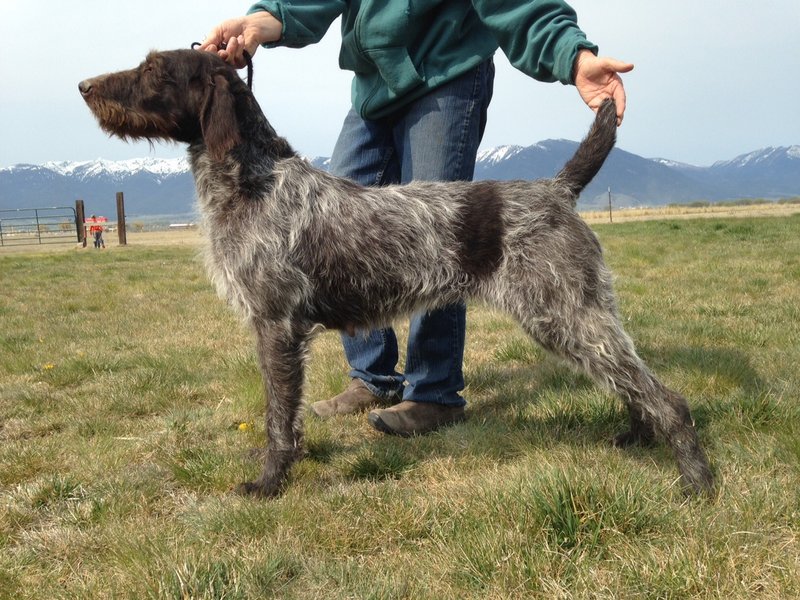 Harley is one of our young, upcoming females that is proving to be a very special dog. She is virtually a clone of her dam, Allie, who was one of our favorite all-time wirehairs - as both an amazing hunting dog and family companion. I finished the 2015/2016 hunting season shooting my limit of chukars over Harley.
Harley is one of those big motor dogs. Whether it is in the field or water, she has an extra gear that most dogs just don't have. She simply wants to find birds a little more and is willing to run a little farther, or dig a little deeper to produce them.
As high-powered as Harley is as a hunting dog, you would never know it around the house. Her dam was the same way. She is a great family dog and a real sweetheart with the family and around the house.
Harley is out of one of our most successful breedings out of Luke and Allie. This cross really combined to bring out the best of both parents in their offspring. Luke is owned by Jeff Funke of Three Devils kennel and he has produced several very talented puppies for us.
We are receiving excellent feedback on Harley's first litterS. Four puppies were tested in NAVHDA natural abilty from her first litter, averaging 109.75 points. One of those puppies has also recieved a UT prize I at 2 years old.
-----------------------------------------------
'B2' LITTER
Currently accepting deposits
Planned Breeding in March, 2017
SIRE:
BONE POINT'S QUICKSILVER
NAVHDA NA: 110/I
VHDF AHAE:
HEIGHT: 24.5"
WEIGHT: 57 lbs
DOB: 4-27-2013
COAT: medium length, black ticked, medium dense/ medium harsh
BITE & EYES: normal
HIPS: OFA Excellent
THYROID: OFA Normal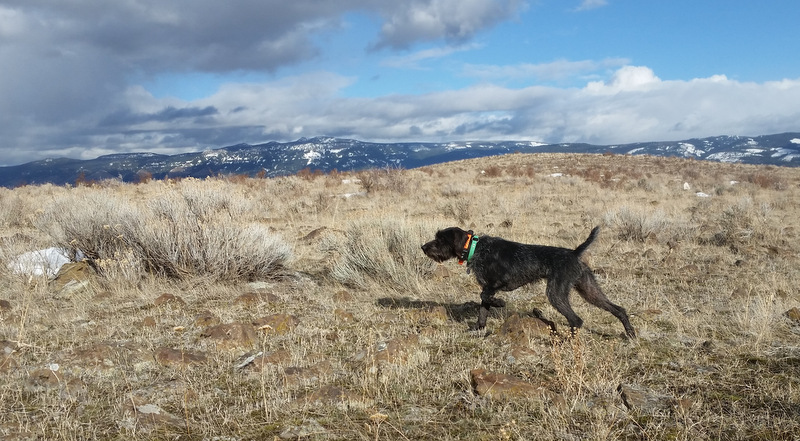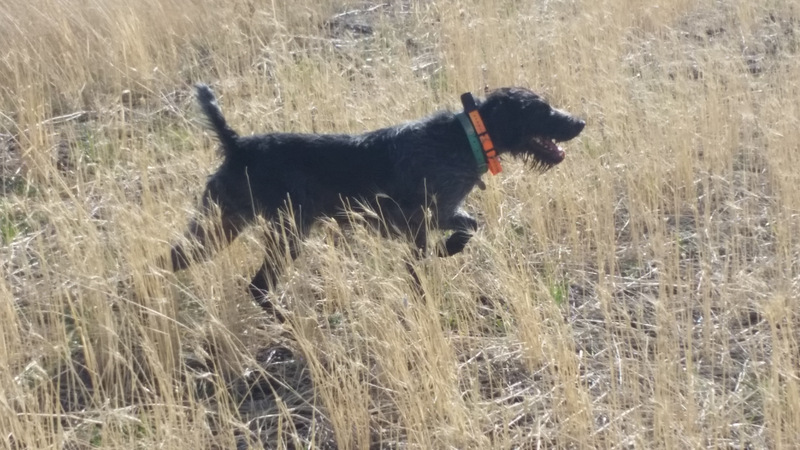 Jett is a very nice young male that we have high expectations for in our breeding program. He is owned by Larry Bennett in La Grande, OR. We have hunted over Jett a few times the past few years, and have also trained with him. I hunted over Jett for the first time in 2013 when he was 7 months old, which happened to be one of our worst bird years on record. This was a year when most hunters weren't finding any birds over veteran dogs, yet Jett was producing coveys of chukars and huns for the gun every time out. He was just a natural born bird dog that was always on birds and he knew how to handle them. I hunted over Jett again in 2014 when he was 1-1/2 years old and it was the same story - Jett producing more bird than the older dogs. One of the only other dogs I have ever seen to be this talented of a bird dog at such an early age was Jett's dam, Frida. Obviously, it is a family trait.
Jett's owner primarily hunts upland with him, but Jett enjoys retrieving the occasional duck. I have seen enough of Jett that I know has all of the tools to make an incredible waterfowl dog if given the opportunity. I have done duck search training work with Jett and his water drive is outstanding, as is his natural duck search. Larry often takes Jett with him fishing on the boat and Jett will jump in and take off swimming several hundred yards away, staying in the water for an hour, simply because he loves swimming and looking for ducks. He is a high drive dog on land and water.
Jett is a medium sized dog that is very athletic. He has excellent conformation and has a medium length black coat. His nose is superb and his bird finding and bird handling abilities are second to none. He has excellent style and intensity on point. Jett has a nice temperament. He is a very nice all-around versatile hunting dog on land and water, and before and after the shot. We are excited about his first litter.